Sagawa Art Museum Raku Kichizaemon Kan - Raku Kichizaemon Pavilion
It is an architecturally unique museum with the underground galleries constructed under the water garden on ground level where the tea room structure is built to resemble a floating isle.
The whole design was produced by Raku Kichizaemon XV based on the concept of "shu-ha-ri, literally "obeying-breaking-leaving", one of the most famous teachings expressed by Sen Rikyû on rules and manners - obey them to the limit (shu), break them (ha), even leave them (ri), but never forget their fundamentals (hon). The collection consists of works produced by the current generation since the year 2000 including black Raku tea bowls, yakinuki type black tea bowls, tea caddies, fresh water jars, etc. Works by Raku Kichizaemon XV are continually updated.
Creation Raku Kichizaemon no Zôkei


Saturday 3 September 2016 – Sunday 26 March 2017
Since Raku Chôjirô, the founder of Raku wares, originated Raku teabowls during the Momoyama period in the late 16th century in Japan, the Raku tradition has been passed down over 400 years up to the current fifteenth generation Raku Kichizaemon, who has been constantly pursuing an avant-garde expression of his own, opening up a new dimension in the strong Raku tradition that he inherited not merely as a safe abode but as a firm ground that he built himself upon to experiment.
He recently challenged the Raku teabowl hand-building tradition by introducing a throwing technique in the style of Ido teabowl.
This exhibition showcases his innovative pursuit of expression achievable within a teabowl format; occasionally dynamic and aggressive, heavily faceted with the spatula, full of movement, deformed shoe-like shape, or sometimes gentle and soft typical of hand-built shape, subtly rhythmical, etc. We hope that a versatile creativity of the current Raku head could be highlighted in the extraordinary underground gallery space of the Raku Pavilion at Sagawa Art Museum.
Raku Kichizaemon and his Artistic Legacy


10th Anniversary of the Opening of the Raku Kichizaemon Pavilion at Sagawa Art Museum

Saturday 1 April – Sunday 10 September 2017
This year celebrates the 10th anniversary of the opening of the Raku Kichizaemon Pavilion at Sagawa Art Mueum. Since its inauguration in 2007, the Raku KIchizaemon Pavilion has organised a series of special exhibition entitled Kichizaemon X to present the collaboration between Raku Kichiaemon and some other artists who share the artistic vision in common as well as all the other sources of inspiration for his creative processes.
This exhibition showcases the works produced by Raku Kichizaemon in the last 10 years that marked his footsteps in collaboration with all that was involved around him.

For further information please consult the Sagawa Art Museum website.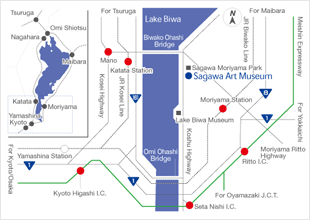 Sagawa Art Museum

2891 Kitagawa, Mizuho-cho, Moriyama-shi, Shiga 524-0102 JAPAN
TEL. +81(0)77 585 7800
FAX. +81(0)77 585 7810

---