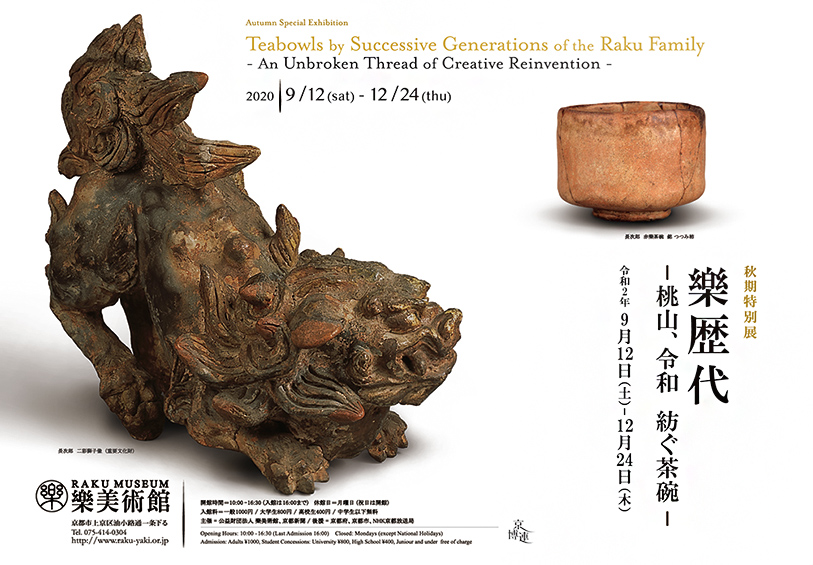 Raku tea bowl was born during the period when Japan was under a rule of powerful military leaders such as Oda Nobunaga (1534-1582) and Toyotomi Hideyoshi (1537-1598).
It was a totally new, avant-garde form of tea bowl born to encapsulate the aesthetic philosophy of wabicha, a wabi way of tea, advocated by Sen Rikyū (1522-1591).
Rikyū commissioned a potter to create a tea bowl to evoke what he believed as the embodiment of a sense of wabi. The potter he chose was called Chōjirō (the founder of Raku family), the author of a two-colour glazed lion dog sculpture. Chōjirō created a single tea bowl under the guidance and inspiration given by Rikyū, using a unique method of modelling. This is how Raku tea bowl was born during the Momoyama period about 450 years ago.
Today in the current Reiwa period, over four centuries later since its birth, Raku tea bowl is still being made incessantly, overcoming periods of war and difficulties, by the head of the Raku family who continues to follow the tradition initially and fundamentally set by Chōjirō with Rikyū, to keep a spiritual core as a central thread of his creativity and to achieve the individual expression without imitating any other before him. The transmission of unwritten secrets of the Raku tradition has only been made from father to son without interval.
This exhibition showcases an unbroken thread of creative reinvention continuously running across 450 years' history of Raku ware, highlighting a selection of fine examples by Raku generations including a two-colour glazed lion dog sculpture (Important Cultural Property), a red Raku tea bowl named Tsutsumigaki (special exhibit, private collection), both by the founder, a red Raku cylindrical tea bowl named Sanjin by Raku Dōnyū III, a black Raku tea bowl named Hirabosetsu by Raku Sōnyū V, a Yakinuki type black Raku cylindrical tea bowl named Ware utaeba tsuki haikai by Raku Jikinyū XV, and others.