Sagawa Art Museum Raku Kichizaemon Kan - Raku Kichizaemon Pavilion
It is an architecturally unique museum with the underground galleries constructed under the water garden on ground level where the tea room structure is built to resemble a floating isle.
The whole design was produced by Raku Kichizaemon XV based on the concept of "shu-ha-ri, literally "obeying-breaking-leaving", one of the most famous teachings expressed by Sen Rikyû on rules and manners - obey them to the limit (shu), break them (ha), even leave them (ri), but never forget their fundamentals (hon). The collection consists of works produced by the current generation since the year 2000 including black Raku tea bowls, yakinuki type black tea bowls, tea caddies, fresh water jars, etc. Works by Raku Kichizaemon XV are continually updated.
15th Anniversary of the Raku Kichizaemon Pavilion: Works by Kichizaemon XV・Raku Jikinyū


Sat 9 April - Sun 4 September 2022
This year marks the 15th anniversary of the opening of the Raku Kichizaemon Pavilion. This has been the venue for a series of exhibitions entitled KichizaemonX in which Kichizaemon XV・Raku Jikinyū has engaged with different themes and artists that he has felt a close sense of commonality with. The current exhibition traces the development of Kichizaemon XV・Raku Jikinyū's creativity that has emerged out of these collaborative ventures. It starts with a display of tea bowls and tea caddies shown in the first exhibition made in response to Indonesian native art. After these come tea bowls and unglazed stoneware vases from the second and third exhibitions reflecting his experience of living and working in France. These are followed by close-up photographs of the surfaces of Raku tea bowls shown in the fourth exhibition that came out of a collaboration with the contemporary artist Takatani Shirō. Subsequent exhibitions from which works have been selected saw his artistic vision expand in response to works by Wols, Fukami Sueharu, Saitō Takashi and, most recently, Malevich. They include yakinuki-type Raku tea bowls made from white clay, Yakinuki-type Black Raku tea bowls, Yakinuki-type Raku tea caddies, and Yakinuki-type 'Black Rock' and 'White Rock' Raku tea bowls. This exhibition provides unique insights into the forever evolving nature of Kichizaemon XV・Raku Jikinyū's artistic genius.

For further information please consult the Sagawa Art Museum website.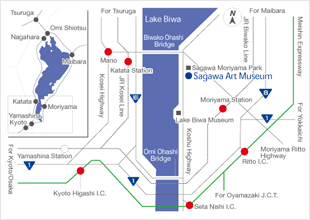 Sagawa Art Museum

2891 Kitagawa, Mizuho-cho, Moriyama-shi, Shiga 524-0102 JAPAN
TEL. +81(0)77 585 7800
FAX. +81(0)77 585 7810
---