Sagawa Art Museum Raku Kichizaemon Kan - Raku Kichizaemon Pavilion
It is an architecturally unique museum with the underground galleries constructed under the water garden on ground level where the tea room structure is built to resemble a floating isle.
The whole design was produced by Raku Kichizaemon XV based on the concept of "shu-ha-ri, literally "obeying-breaking-leaving", one of the most famous teachings expressed by Sen Rikyû on rules and manners - obey them to the limit (shu), break them (ha), even leave them (ri), but never forget their fundamentals (hon). The collection consists of works produced by the current generation since the year 2000 including black Raku tea bowls, yakinuki type black tea bowls, tea caddies, fresh water jars, etc. Works by Raku Kichizaemon XV are continually updated.
KICHIZAEMON X nendo×Raku Kichizaemon XV-Jikinyu


Fri 16 September 2022 - Sat 11 March 2023
The Kichizaemon X series of exhibitions are explorative ventures in which ceramics by Raku Jikinyū (formerly Raku Kichizaemon XV) are shown alongside works that have moved and left a strong impression on him. The 'X' stands for the 'variable' engendered by the interaction between the two.
In this 13thKichizaemon X exhibition, Jikinyū's work is partnered with that of Design Office nendo founded by Oki Sato. Based in Tokyo and Milan, and the recipient of numerous design awards, nendo is highly regarded both internationally and in Japan for the wide range of design projects in which it engages.
In this exhibition, Oki Sato and his colleagues have explored Raku Jikinyū's tea bowls from the point of view of their physical characteristics, their interior space, surface texture, and movement in time. This innovative and challenging project looks beyond the simply visual and delves into the philosophical underpinnings of Jikinyū's practice. The exhibits are the outcome of a collaboration based on a close sharing of ideas about the process of making objects. They offer unique insights into the meaning of design.
nendo official site:
Talk between Sato Oki (Chief Designer of nendo) and Raku Jikinyū could be watched

For further information please consult the Sagawa Art Museum website.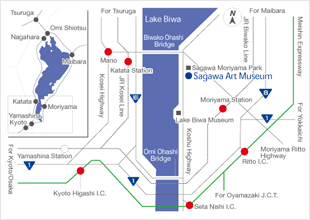 Sagawa Art Museum

2891 Kitagawa, Mizuho-cho, Moriyama-shi, Shiga 524-0102 JAPAN
TEL. +81(0)77 585 7800
FAX. +81(0)77 585 7810
---