Sagawa Art Museum Raku Kichizaemon Kan - Raku Kichizaemon Pavilion
It is an architecturally unique museum with the underground galleries constructed under the water garden on ground level where the tea room structure is built to resemble a floating isle.
The whole design was produced by Raku Kichizaemon XV based on the concept of "shu-ha-ri, literally "obeying-breaking-leaving", one of the most famous teachings expressed by Sen Rikyû on rules and manners - obey them to the limit (shu), break them (ha), even leave them (ri), but never forget their fundamentals (hon). The collection consists of works produced by the current generation since the year 2000 including black Raku tea bowls, yakinuki type black tea bowls, tea caddies, fresh water jars, etc. Works by Raku Kichizaemon XV are continually updated.
After Malevich
Raku Kichizaemon・Jikinyu X Malevich


Tuesday 18 January – Sunday 3 April 2022
For the Kichizaemon X Malevich exhibition held from 14 September 2021 to 16 January 2022 in which Jikinyū's work is partnered with the drawings of the Russian avant-garde artist Kazimir Malevich (1879-1935), founder of Suprematism and champion of non-objective art, Raku Jikinyū newly made white tea bowls, so-called White Rock, in tune with the wavelength of Malevich's drawings. His challenge was to use Shigaraki white clay and porcelain clay instead of the clay inherited in the Raku family traditionally applied for Raku tea bowls in his attempt to obtain a purity of whiteness in the clay canvas. On the rough texture of a dynamic white tea bowl, irregularly, indefinitely and capriciously applied patterns appear in wild, flamboyant manner. The naming 'White Rock' perfectly matches this series, demonstrating an innovated expression developed by Jikinyū. Since Malevich's drawings could only be exposed for a limited period of time for the conservation purpose, we present the third part exhibition entitled After Malevich to complete the circle, showing further more group of White Rock tea bowls of Raku Jikinyū.


His first experience in throwing of Hagi tea bowl fascinated him so strongly that he continued his pursuit for throwing using various types of clay, some from Tamba or some found underneath the basis of the East Pagoda of the Yakushiji temple in Nara. A thrown tea bowl is distinguished by its flaring shape opening up from inside towards outside caused by a centrifugal force of the turning of potter's wheel. Ido tea bowl is a typical of its kind, marking a sharp contrast with Raku tea bowl which is formed strictly by hand-moulding as if to enclose the shape from outside towards inside.

This exhibition highlights two contrasting characteristics of hand-moulding and throwing by showcasing various tea bowls made in both techniques.

For further information please consult the Sagawa Art Museum website.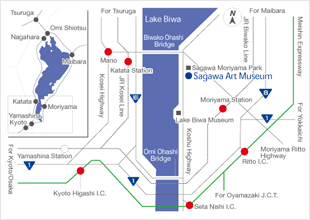 Sagawa Art Museum

2891 Kitagawa, Mizuho-cho, Moriyama-shi, Shiga 524-0102 JAPAN
TEL. +81(0)77 585 7800
FAX. +81(0)77 585 7810
---