Sagawa Art Museum Raku Kichizaemon Kan - Raku Kichizaemon Pavilion
It is an architecturally unique museum with the underground galleries constructed under the water garden on ground level where the tea room structure is built to resemble a floating isle.
The whole design was produced by Raku Kichizaemon XV based on the concept of "shu-ha-ri, literally "obeying-breaking-leaving", one of the most famous teachings expressed by Sen Rikyû on rules and manners - obey them to the limit (shu), break them (ha), even leave them (ri), but never forget their fundamentals (hon). The collection consists of works produced by the current generation since the year 2000 including black Raku tea bowls, yakinuki type black tea bowls, tea caddies, fresh water jars, etc. Works by Raku Kichizaemon XV are continually updated.
Raku Kichizaemon X
The 1970s Generation Today


Friday 15 September 2017 – Sunday 11 March 2018
The period from the late 1960s to the 1970s saw many of the major social changes that would shape and define the years that followed.
There were protests against the US-Japan Security Pact and against the Vietnam War student demonstrations, Mishima's symbolic suicide, Asama-Sansô Incident with United Red Army, Hippie Counterculture, Allen Ginsberg and Beat Generation poets, Bob Dylan, Miles Davis, Jazz café Pit Inn, French Novelle Vague including Godard and Truffaut, films of Alan Resnais and Pasolini, Structuralism of Claude Lévi-Strauss, Saussure and Lacan, Post-Structuralism of Deleuze, Foucault and Derrida, Buto avant-garde dance of Hijikata, Jôkyô Theatre of Kara Jûrô, Tenjôsajiki underground theatre troup led by Terayama Shûji, experimental music of Takemitsu Tôru, new American art, the Gutai and Mono-ha movements.
After more than two decades of rapid economic growth and Japan's recovery from the Second World War, it was a key turning point in the direction the country would take. It was a period of contradictions and clashing value systems in which the postwar generation of baby-boomers reached adulthood.
This exhibition, 8th of the series entitled Kichizaemon X, looks at the current work of 14 artists of that generation and the extent to which it is infused with their experience of those tumultuous years.

For further information please consult the Sagawa Art Museum website.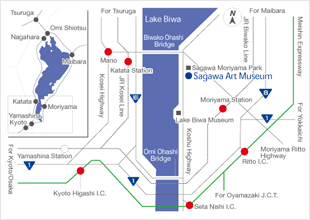 Sagawa Art Museum

2891 Kitagawa, Mizuho-cho, Moriyama-shi, Shiga 524-0102 JAPAN
TEL. +81(0)77 585 7800
FAX. +81(0)77 585 7810
---