Sagawa Art Museum Raku Kichizaemon Kan - Raku Kichizaemon Pavilion
It is an architecturally unique museum with the underground galleries constructed under the water garden on ground level where the tea room structure is built to resemble a floating isle.
The whole design was produced by Raku Kichizaemon XV based on the concept of "shu-ha-ri, literally "obeying-breaking-leaving", one of the most famous teachings expressed by Sen Rikyû on rules and manners - obey them to the limit (shu), break them (ha), even leave them (ri), but never forget their fundamentals (hon). The collection consists of works produced by the current generation since the year 2000 including black Raku tea bowls, yakinuki type black tea bowls, tea caddies, fresh water jars, etc. Works by Raku Kichizaemon XV are continually updated.
Black RAKU by Kichizaemon XV


Wednesday 21 March 2018 – Sunday 30 September 2018
The method of making tea bowls developed in the Momoyama period (1573-1615)
by Chōjirō, the founder of the Raku family, is unique. Rather than being thrown on the wheel, the bowls are shaped by hand and carved with spatulas. They are then fired individually in small muffle kilns. Chōjirō's Black Raku tea bowls are distinguished by an intense monotonality. Subsequent generations, whereby only the head of the family has made tea bowls, have always respected Chōjirō's intentions while pursuing their own forms of expression. Tradition and creativity have thus gone hand in hand for over 450 years. Raku Kichizaemon XV, the current family head, is especially inventive. As well as making Black and Red Raku bowls in the classic manner, he has pioneered a new Black Raku technique called yakinuki, which he uses for tea caddies, another first in the history of Raku, as well as tea bowls. In the field of Red Raku he has created a new kind of white glaze called rekiyū. His work in Black Raku has been informed in particular by the principles of shu-ha-ri, meaning 'abide by - break with - depart from'. Over the years he has created many bowls of unrivalled originality. These have changed over time in terms of shape, colour and texture, and continue to do so even today. Made using traditional techniques and materials, his Black Raku bowls are unequivocally modern in feeling. Sculpted, distorted and glazed in multiple colours, his yakinuki bowls are the essence of contemporaneity. His most recent works are monumental, monotone and have the quiet presence of silent rocks. We hope you will enjoy this exhibition and the possibilities afforded by the Black Raku tea bowl.

For further information please consult the Sagawa Art Museum website.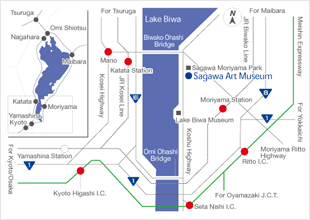 Sagawa Art Museum

2891 Kitagawa, Mizuho-cho, Moriyama-shi, Shiga 524-0102 JAPAN
TEL. +81(0)77 585 7800
FAX. +81(0)77 585 7810
---